BornToDye – A We Are Knitters Kit Review
Disclosure: This post may contain affiliate links, meaning, at no additional cost to you, if you click through and make a purchase, I may receive a commission. Please check out our disclosure policy for more details.
Ever wonder how to dye yarn at home? We are Knitters BornToDye kit makes it easy for us newbies to enter that hip indie-dye yarn collective.
I always looked with envy at those who dyed their own beautiful artisanal yarn and when WAK launched their hand-dye kit I just had to buy one to try it out.
In this review, I will show you how I dyed the yarns in different ways and colors using the BornToDye kit.
What did the hand-dye kit include?
And a box including:
You will also need a large pot, a wooden spoon, and a container for mixing the dyes. I would also recommend using a kitchen scale as you have to weigh the dyes when mixing the color as well as the mordant.
Mixing the dye
In the pattern, there is a chart showing exactly the amount of each dye you have to use when mixing, and they give you a choice of 23 different colors. The BornToDye kit comes with CMYK colors; C=Cyan, M=Magenta, Y =Yellow, and K=Black, and these are the four basic colors used for printing color images. The chart shows you exactly how much dye in gram you need to make a color, easy peasy.
I, of course, had my own ideas of colors, which was peach and indigo, so I used this CMYK chart to mix them, but the chart showed percent instead of grams.
So how did I mix my Indigo color?
Well, this is how I interpreted the chart, and after some tweaking I found the color I was looking for.
Indigo is made of Cyan 57%, Magenta 100%, and Black 3%. I had 1 cup (approx: 250 ml) of water to mix it in, and for this I had 3 grams of Cyan, 2 grams of Magenta, and just a pinch of Black. I started out with this and then adjusted with some more black until I was happy with the color. Dipping a paper napkin in the dye gave me an idea how the final color would look like.
Bear in mind that this is the concentrated color and it will go a bit lighter when you mix it in the water that is used for dyeing. Every lot is unique, but for me, that's what makes it fun.
I recommend using an old cleaned glass jar to mix the colors. You can then put a lid on and use the color to dye yarn from the same dye lot another time.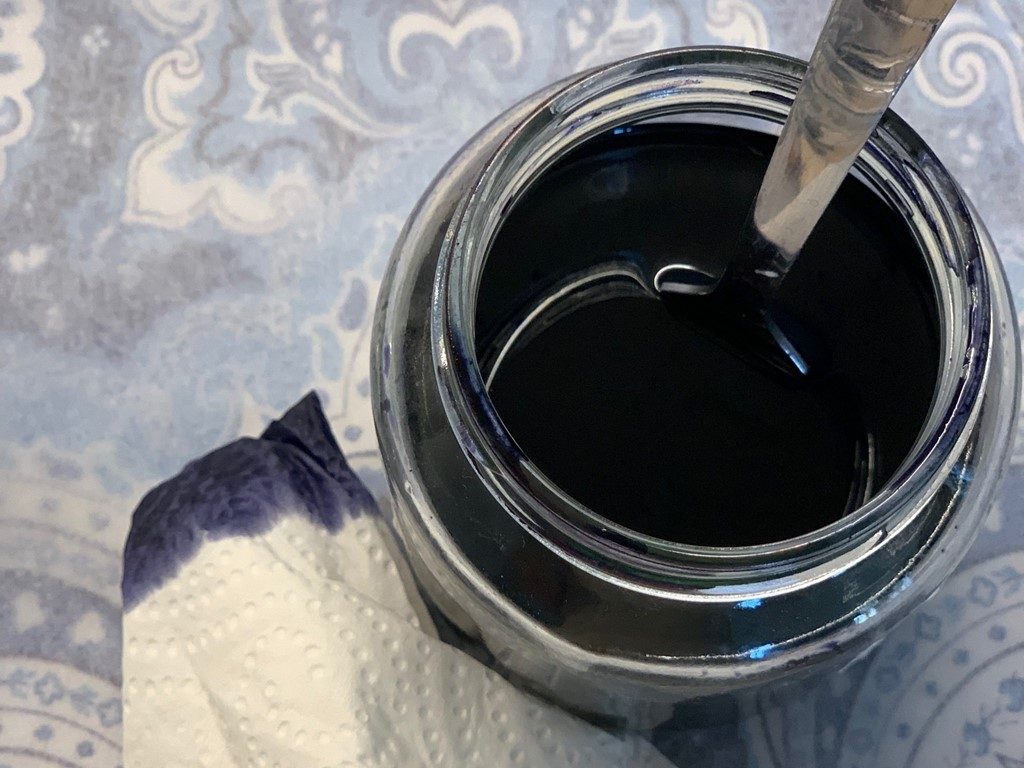 The Dyeing process
As the kit came with two skeins, I tried out two different ways of dyeing the yarn. First, I dyed using the We Are Knitters pattern which was easy step by step instructions. The result ended up in a marbled indigo color and with one skein I knitted a short scarf in garter stitch.
Secondly, I wanted to try out to make a gradient yarn where the color goes from dark to light. I did this by putting the whole ball in the dye which makes the outer layer on the ball soak more color than the inner layer. With this ball I knitted a triangle scarf.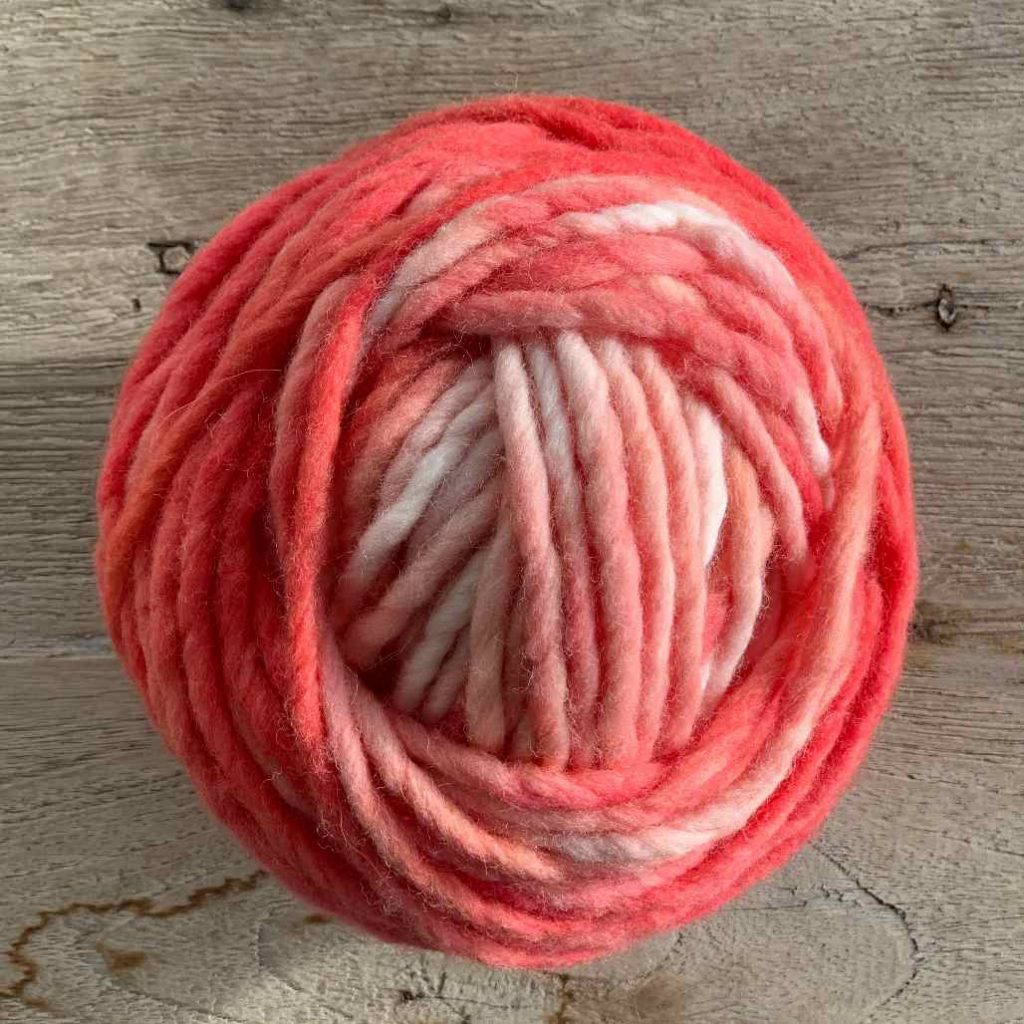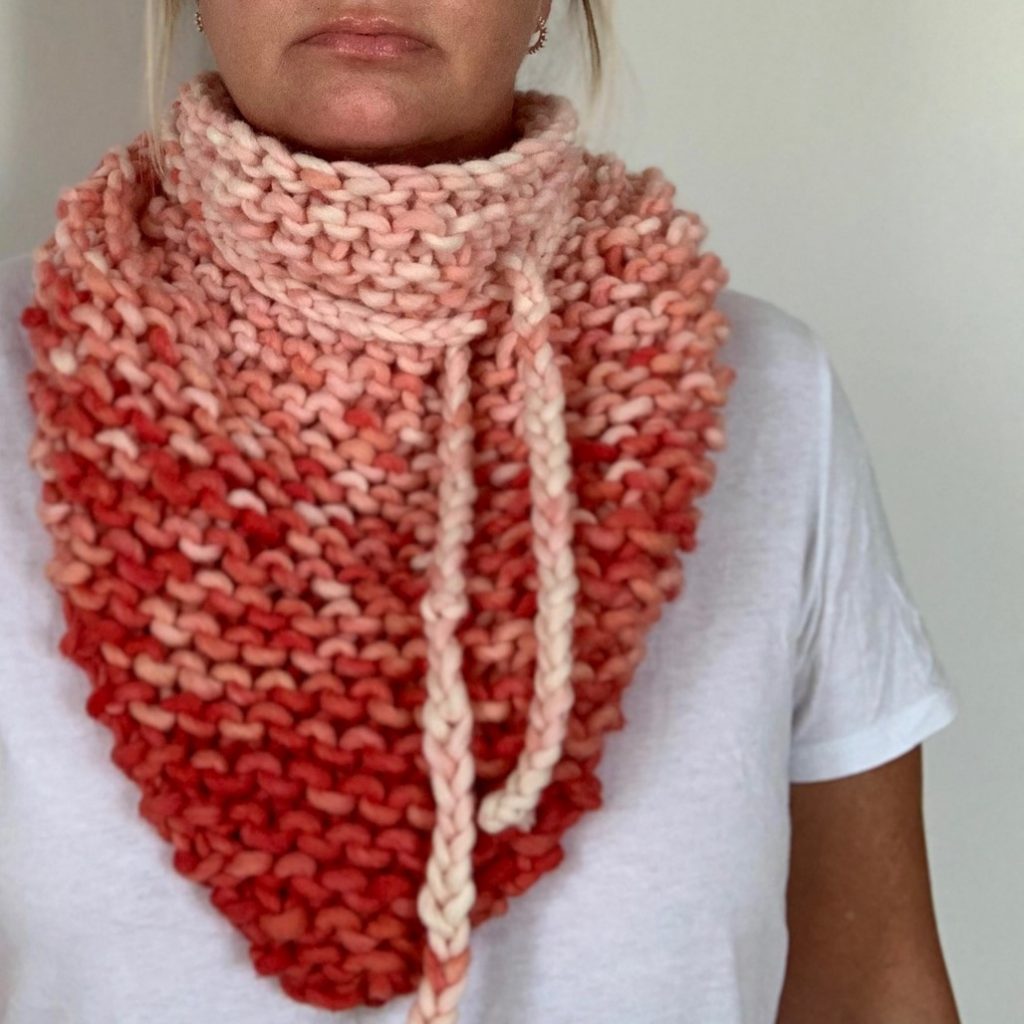 I really liked the Indigo color and used the same lot to dye six more skeins using the gradient technique, which I then used to knit WAKs Nolita Sweater, read review here . This is how I did it:
To wrap it up!
The BorntoDye kit came with easy to follow step-by-step instructions. However, it only shows one method, a basic uniform dye. This is good for the first time dyer to get the hang of the process, but I would have wanted to have more choices of techniques.
I didn't find any additional information about different ways you can dye your yarn on We Are Knitters Website or blog and therefore had to search the Internet to get the information about how to make a gradient yarn.
We Are Knitters BornToDye kit is well suited to those that are new to dyeing with its easy instructions and basic dyeing techniques, but if you want to try other methods, you have to search the wide Web.
However, you can dye many skeins with the colors you get, I used my Indigo lot for seven balls, and I still have some of the lot left. WAKs are stating that with the BornToDie Kit you can dye about twenty skeins. This is great as it's easy to be addicted, and you will have plenty of dye left to try out different kinds of techniques and colors. Don't be afraid to play with it, and have fun!
Get a discount of $12/£10/€10 at WAK
by using the code MGMTIZQFT at check-out.
Code can be used once!
Note; I bought this kit myself and did not get paid for this review.