9 Trendy Knitting Kits for ALL Sizes
Disclosure: This post may contain affiliate links, meaning, at no additional cost to you, if you click through and make a purchase, I may receive a commission. Please check out our disclosure policy for more details.
Are you tired of trying to find a knit kit in your size? This post will have you covered!
I have chosen nine kits from the latest, and best-sold knitting kits out there with sizes from Small to XXX-Large. No matter on what knitting level you are, there are options for the beginner, intermediate, and advanced knitter.
Easy Level Knitting Kits
Silver Monk Sweater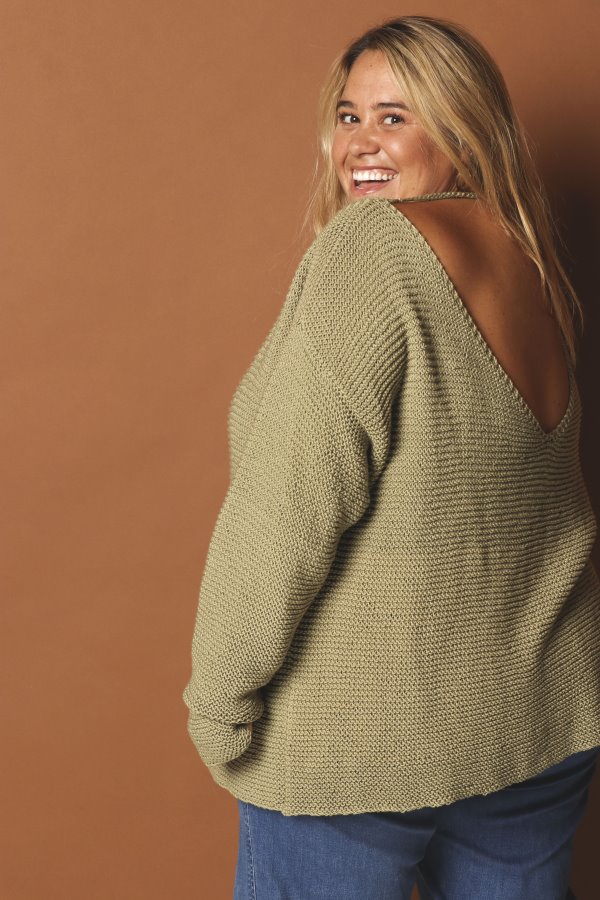 Show off your back in this cute top from We Are Knitters!
The Silver Monk Sweater is an easy level knitting kit and made of 100% Pima cotton from Peru, which makes a jumper with a light, silky feel.
There are a lot of different colors from which you can choose, from solid to hand-painted sprinkles. This is a turn-around sweater and comes in sizes S to XXXL.
Get a discount of $12/£10/€10 at WAK
by using the code MGMTIZQFT at check-out.
Code can be used once!
Fastlove Tunic
Loose, airy, and oversized!
The Fastlove Tunic from Wool And The Gang is a great year-around sweater, wear it as it is in the summer or layer it for the colder months.
The yarn is called Billie Jean Yarn and is made of leftover denim, which gives this tunic a unique texture and look.
There are six shades to choose from, and the sizes range from 1 (US 2-4) to 6 (US 22-24).
Nolita Sweater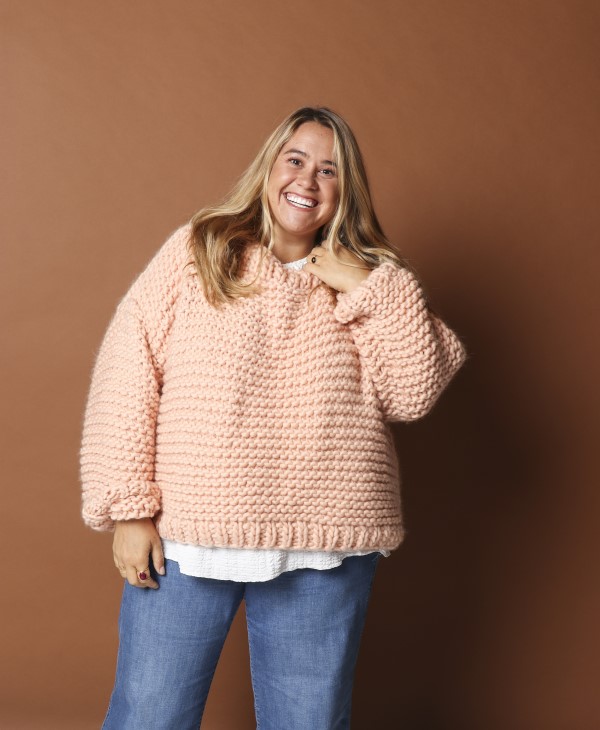 Snuggle up in the Nolita Sweater, a chunky, soft jumper from We Are Knitters.
Made in 100 % Peruvian wool and with over thirty different colors to choose from, this sweater will both keep you warm and look great. Better still, as it's chunky it will knit fast.
Sizes range from S to XXXL.
Do you want to know more about knitting The Nolita Sweater? Read my review here!
Get a discount of $12/£10/€10 at WAK
by using the code MGMTIZQFT at check-out.
Code can be used once!
Intermediate Level Knitting Kits
Miles Cardigan
Wear the cables up your sleeve!
The Miles Cardigan from Wool And The Gang is a relaxed and oversized cardigan with buttons on the front to keep any chilly breeze away. Knitted in WATGs Soft Care Mohair made in South Africa, by goat farms with 200 years tradition and commitment, this cardi is both fluffy and sustainable.
Choose from twenty-plus colors and sizes from 1 (US 2-4) to 6 (US 22-24).
Forbes Pullover
All American!
The wool in this classic pullover from Brooklyn Tweed is grown, spun, and dyed on American soil. The Forbes Pullover is a high-quality sweater made in 100% American Rambouillet, also known as French Merino, and is soft and bouncy to the touch.
Forbes Pullover knitting kit comes in ten earthy colors and the bust-size 35" (89 cm) to 63" (160 cm).
Toto Sweater
The lace is back!
The Toto Sweater from Wool And The Gang is a modern take on chevron lace. Made in the Take Care Mohair, this airy jumper is fluffy, warm, and light.
Sizes range from 1 (US 2-4) to 6 (US 22-24), and it comes in a lot of funky colors.
Advanced Level Knitting Kits
Castaway Sweater
Conscience free jumper!
The Cast Away Sweater from Wool And The Gang is made out of recycled plastic bottles and organic cotton, which results in a sustainable jumper that saves a whole 27 plastic bottles from the ocean. Slow fashion at its best!
WATGs New Wave Yarn comes in more than ten colors and sizes 1 (US 2-4) to 6 (US 22-24).
Check out my post KnIT style – Cable Knit to see how to wear it.
Sagemoor V-Neck Pullover
Traditional Fair-isle!
Sagemoor is a pullover in stranded color-work with an advanced pattern in eight different colors. But do not fret, Brooklyn Tweed have you covered with over 40 colors to choose from to make your own unique color combination.
Bust sizes from 32¼" (82 cm) to 55¼" (140.5 cm).
Charlie Cardigan
Classic and advanced!
This knitting kit from Wool And The Gang will give you a timeless piece of knitwear. The Charlie Cardigan has a classic, clean look but will yet challenge you with its advanced knitting techniques.
It's made in Shiny Happy Cotton, a Pima cotton hand-picked in Peru, and comes sizes 1 (US 2-4) to 6 (US 22-24).