10 Best Knitting Kits for Beginners
Disclosure: This post may contain affiliate links, meaning, at no additional cost to you, if you click through and make a purchase, I may receive a commission. Please check out our disclosure policy for more details.
The ultimate how to knit for beginners! Why not take the step and learn to knit with these beginner knitting kits?
Knit kits are perfect to start knitting for beginners as they come with everything included as yarn, knitting needles, pattern and instructions. Just open your kit and start knitting!
To make it even easier for you to start looping, I have picked out 10 different knitting kits for beginners, from scarves to mug warmers, that are perfect for the absolute beginners.
Take My Heart Scarf – Summer staple
Face the summer with this super soft and fluffy snood from Wool And The Gang, an ideal wardrobe staple during spring and summer.
The scarf is made using basic knitting techniques, and the kit comes with written and illustrated instructions, and you also find how-to videos on their Website.
The Dishcloth – Set of three
Learn to knit and at the same time, get three high-quality dishcloths. KnitPicks "The Dishcloth" knitting kit for beginners comes in a set of three and a choice of different vibrant colors.  
With this kit, you learn to knit the basic knitting techniques from start to finish with step-by-step instructions and detailed photo tutorials, a perfect knitting for beginners.
My First Hat – Chunky knitting kit for beginners
Loopy Mango offers this exclusive knitting kit for beginners in 100% merino wool. It's thick, warm, soft, and stylish, perfect for those cold winter days.
With this chunky yarn, you will have it finished in no time. Loopy Mango states that it only takes 1-2 hours to complete, and there are tons of colors to choose from.
The Scarf – Beautiful summer colors
Knit a lovely summer scarf! To knit KnitPicks, "The Scarf" you don't need any knitting experience.
Everything is covered in the included booklet with start-to-finish, step-by-step instructions, and detailed photo tutorials.
The yarn is 100% merino wool, super soft, and machine washable.
Cup Cozy – Warm drink and hands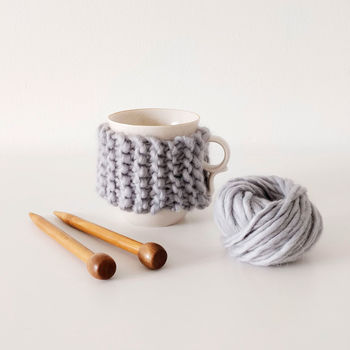 Keep your drink, and hands warm with the Cup Cozy Mini knit kit from Stitch & Story.
Learn to knit with this quick beginner project in 100% merino wool with both illustrated and video instructions
Buy a single kit or in a bundle of three.
Sally Scarf – Big tassels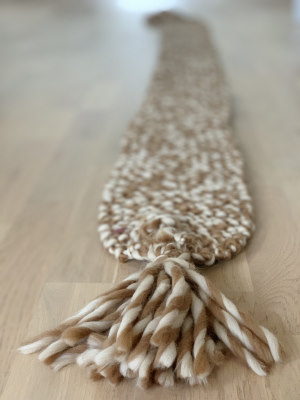 The Sally Scarf from BettaKnit is one of the best knitting kits for beginners if you want to have a scarf with a little extra (tassels) and get a real practice on garter stitch.
Even though the scarf is 256 cm/100,8" long, the chunky 100% Peruvian wool and easy knit techniques will make this a quick knit.
You'll get written instructions as well as find how-to videos on their Website. If you want more insight on how to knit this you can read my review.
Nyssa Blanket – Giant throw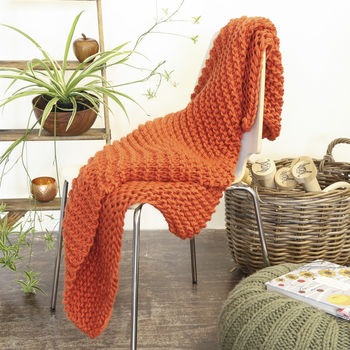 This chunky throw from WoolCouture is made in 100% Merino wool and perfect to snuggle up with on the couch or in bed. With this kit, you'll learn how to knit, purl, cast-on, and cast-off.
Besides getting all the supplies and instructions you need, you also get an Eco-friendly, recyclable 'Bag of Happy' tote bag to keep your WIP (knit slang for Work In Progress) in.
Kate Mittens – Arm and hand warmer
These mittens are a little longer for extra warmth and take just around 5 hrs to make.
This is a super easy knit project with basic purl and knit stitches made in WATG's natural and sustainable yarn Alpachino.
Wool And The Gangs beginners knitting kit comes with easy instructions, and there are how-to videos on their Website.
Love Train Cushion – Sustainable
Wool And The Gang are really good at offering sustainable yarn options. The Love Train Cushion is knitted in a yarn made from upcycled t-shirt scraps with a shoelace structure, which makes it ideal for knitted homewares.
The pillow is knitted in garter stitch, but if you feel adventurous, it comes with two more advanced stitch patterns.
Back to the Fuchsia Knit Cowl – A good buy
Starting at $14.99, the Back To The Fuchsia Cowl from Lion Brand is a find. This knitting kit for beginners includes all you need as yarn, pattern, and needles, and on Lion Brands Website, you'll find videos, tips, and tricks to help you on your knitting journey.
A perfect first knitting kit for a great price!