6 Drop-Dead Gorgeous Drop Stitch Summer Knit Kits
Disclosure: This post may contain affiliate links, meaning, at no additional cost to you, if you click through and make a purchase, I may receive a commission. Please check out our disclosure policy for more details.
Drop stitch knitting is a technique to make open, vertical stripes in knitwear.
By dropping one or more stitches in a solid fabric, it creates a run, or ladder, in the garment. This makes a see-through effect like lace but has a more casual look.
This makes it perfect for summer knits like tank-tops, tees, and cover-ups, and I have cherry-picked the 6 most drop-dead gorgeous knit kits out there.
If you are just interested in drop stitch patterns have a look at my post 10+ FREE Drop Stitch Knitting Patterns
Jungle Days Tank Top
The collaboration between We Are Knitters and Two of Wands results in a trendy drop-stitch top tank.
The Jungle Top Tank is a project for the intermediate knitter and comes in sizes S to XL and a choice between 30 colors.
Get a discount of $12/£10/€10 at WAK
by using the code MGMTIZQFT at check-out.
Code can be used once!
Drop Stitch Pullover
The Drop Stitch Pullover from Lion Brand is a must for the summer wardrobe.
This intermediate knit kit comes in the color Denim and the sizes S, M/L and 1XL/2XL. The cover-up is perfect for the beach and, off course, the beach bar.


Kobuk Tee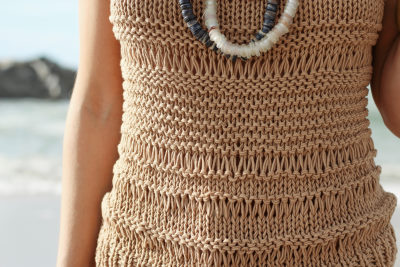 The Kobuk Tee from We Are Knitters is an easy knitting kit with drop-stitches that will cool you down on a hot summer day.
This top is made of 100% Pima Cotton from Peru, which creates a super-soft and light knitwear.
Comes in 30 colors, and the sizes S to XL.
Get a discount of $12/£10/€10 at WAK
by using the code MGMTIZQFT at check-out.
Code can be used once!
Summer Fringe Scarf
The Summer Fringe Scarf from Loopy Mango is a beginner level knitting kit that knits fast.
Made in their chunky Big Cotton Yarn, it's both warm and light, the perfect knitwear for those chilly summer nights.
Come in 16 trendy colors.


Lemon Drop Sweater
A lovely drapey drop-stitch sweater from Lion Brand that is both comfortable and stylish.
The Lemon Drop Sweater is knitted in LB's Cotton Bamboo yarn, which is both durable and affordable.
This sweet sweater comes in sizes XS to 2XL and in eight bright summer colors.