Top 5 Throw Pillow Knit Kits
Disclosure: This post may contain affiliate links, meaning, at no additional cost to you, if you click through and make a purchase, I may receive a commission. Please check out our disclosure policy for more details.
Let's do some pillow talk! You can never have too many throw pillows. I just love them and I have more than enough, but that's a good thing. A throw pillow can change the vibe of the whole room and when you are tired of the décor, throw on new ones and get a new feeling.
Knitted cushions are cozy. And cozy makes me think of home, which makes me think of homemade. So why not create your own throw pillows to get that cozy, warm, and personal touch to your home.
For more home décor knit kits, check out my favorite chunky blanket knit kits.
Sweet Romance
If you have a sweet tooth, this advanced crochet kit from BettaKnit oozes whipped cream cake. Combine with linen and cotton pillows for the French romantic look.
The Cozy Pillow is soft, warm, and fluffy. The yarn called Cool Wool is made of 100% Peruvian wool, and better still, you can choose from 14 cool color combinations.
Boho
Show your inner bohemian in the décor with this ethnic cushion cover. Made of two different yarn types, it has a lot of texture, perfect for that natural, earthy look.
Wool And The Gangs "Crazy Cushion of Love" is an intermediate-level kit. Made of 100% natural, renewable and biodegradable wool AND of upcycled yarn from t-shirt scraps, this is a conscience free knit.
Classic or Ethnic?
Wool And The Gangs easy-level "Beyond the Cushion" kit really goes beyond as it fits both the classic and boho home décor. Stripes are classic and timeless but combine it with the "Crazy Cushion of Love" and it adds that little extra to the bohemian home.
The yarn is called New Wave and is made of discarded water bottles and cotton, let's make the wave for that!
Spell It!
Make a statement with your throw pillows!
LOVE, PEACE, KNIT, choose your own favorite word with the ABC Cushion from We Are Knitters where the pattern has all the letters from the alphabet.
The yarn is chunky and is made of 100% Peruvian Wool and has a wide range of colors to choose from.
Get a discount of $12/£10/€10 at WAK by using the code MGMTIZQFT at check-out. Code can be used once!
Fringe Fun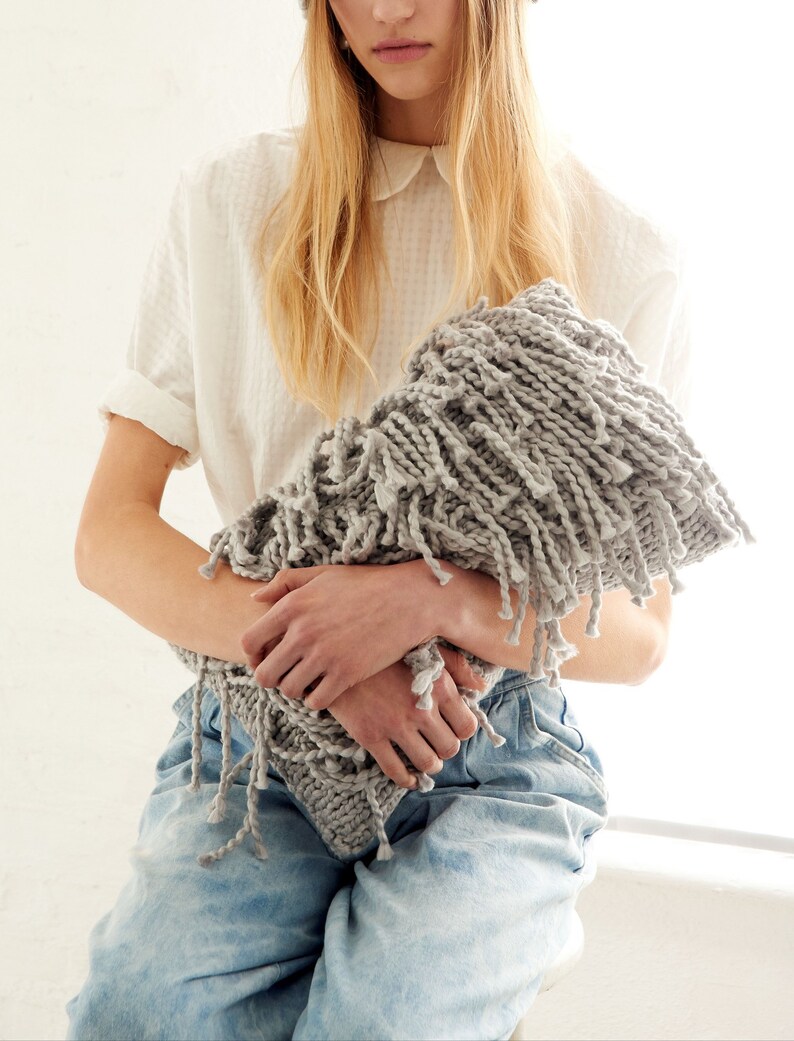 These eye-catching throw pillows from Loopy Mango will make your home more fun. And what's even more fun, it's a beginner knitting kit that will only take 4 to 5 hours to knit.
The Fringe Pillow Case is made in Loopy Mangos Big Cotton yarn which is chunky, 100% vegan, and suits those of you that have wool allergies.
Mix with different colors and sizes to give your home that personal touch.