10 Not So Ugly Christmas Sweaters – Knit and Crochet Kits
Disclosure: This post may contain affiliate links, meaning, at no additional cost to you, if you click through and make a purchase, I may receive a commission. Please check out our disclosure policy for more details.
Looking to spread some holiday cheer with a touch of handmade warmth? Check out my collection of 10 festive not so ugly Christmas sweater knit and crochet kits. From classic candy canes to adorable holiday motifs, these kits are perfect for beginners and experienced crafters alike. Get ready to create your own unique and stylish holiday sweater. Start crafting today!
Do you want to give a unique gift, made with thought, love, and care? Here are 7 Christmas Gift Ideas That You Can Knit in No Time
KNITTING KITS
The Tree Sweater by Lion Brand is a simple project suitable for beginners. It is crafted using anti-pilling acrylic fiber, ensuring its durability even after repeated washes.
Size: S – 5XL
Difficult level: Easy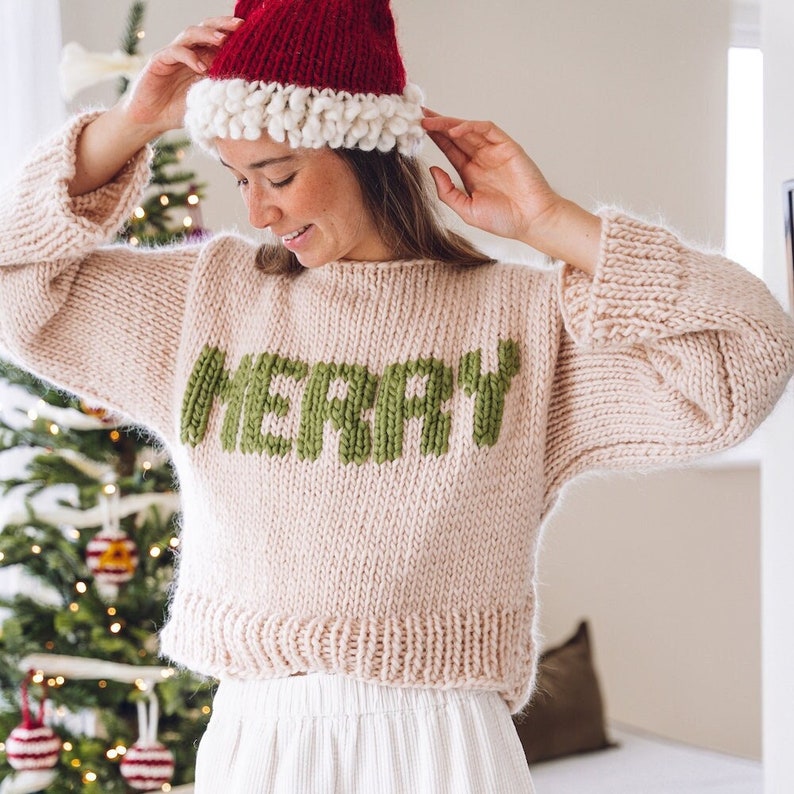 The Merry AF sweater from Lauren Aston Designs is far from being an ugly Christmas sweater. You have the option to select from a range of 10 modern shades available in the One Little yarn, which is made entirely from 100% Merino wool.
Size: S – XL
Difficult level: Easy
Scarlet is an exquisite fair-isle sweater adorned with elegant snowflakes and stars. Crafted by knitting in the round from the bottom up, this project provides an enjoyable and rewarding challenge.
Size: S – 3XL
Difficult level: Experienced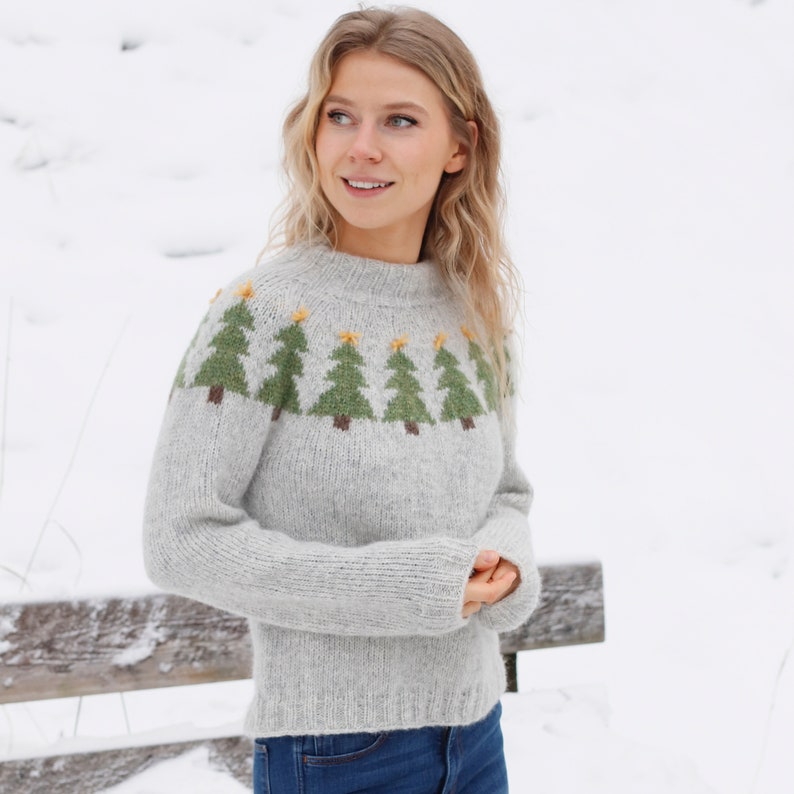 Knitted Home London's Merry Tree Christmas Sweater kit offers a plush and lightweight feel.
Crafted with care and attention to detail, this sweater kit is sure to impress. The soft and lightweight texture ensures maximum comfort while wearing. Embrace the holiday spirit and showcase your knitting skills with this delightful Merry Tree Christmas Sweater kit.
Size: XS – 2XL
Difficult level: Intermediate
The Light It Up Yoke knitting kit from Lion Brand is a seamless circular yoke sweater with a turtleneck and an embroidered string of lights encircling the yoke.
Size: XS – 5XL
Difficult level: Intermediate
Garnstyrelsen's version of a cozy Christmas sweater is the Dancing Joy Sweater. It features a playful pattern of dancing couples and christmas trees. The soft, knit fabric ensures warmth and comfort throughout the holiday season. Whether you're attending a family gathering or cozying up by the fire, the Dancing Joy Sweater is the perfect choice for spreading holiday cheer.
Size: XS – 2XL
Difficult level: Experienced
CROCHET KITS
Hobbii's Candy Cane Sweater stands out with its vibrant red and white stripes, reminiscent of the iconic Christmas treat.
The candy cane motif adds a festive touch to the design, perfect for holiday gatherings. With the children's version available, you can create a matching set for the whole family.
Size: XS – 5XL
Difficult level: Intermedient
The Ginnerup Christmas Sweater from Hobbii puts the timeless Christmas tree as the focal point and adorning it with elegant yet understated decorations. If desired, pearls can be sewn on as an alternative to the crocheted baubles.
Size: S – 3XL
Difficult level: Intermediate
If you appreciate Fair Isle sweaters but lack knitting skills, Hobbii's Holiday Sweater crochet kit offers a similar style and texture to these timeless jumpers.
Size: XS – L
Difficult level: Intermediate